Why are earthworms so important to a gold mine?
This material was prepared for use in Waihi Primary Schools. It is presented here for use by teachers who may be able to adapt the programme for use in their own classrooms.
Topic: Earthworms
Year Level: 5,6
Duration: Five to six lessons
Achievement objectives:

Students will demonstrate knowledge and understanding of:
the earthworm's environment
the earthworm's body and biology
why earthworms are good for the soil.
Specific learning outcomes:
The students will be able to:
research using the internet, books, etc to find information about earthworms
look for and collect earthworms
plan and construct a wormery
provide a suitable environment for the earthworms in the wormery
make scientific observations and drawings of earthworms
seed earthworms into new pasture at the Martha Mine waste rock embankment
complete creative language and art activities about earthworms.
Resources:
Internet (see bibliography below)
'Earthworms are Animals' Concept Science
'The Earthworm' Wonder World III
Notes provided by OceanaGold Education Centre
Equipment:
Wormery (provided by OGL), spade, sods of earth and nutrient materials, untreated sawdust, worms (of course!!), hand lenses.
Lesson sequence:
Day One: Finding earthworms and making a home (wormery) for them
Day Two: Watching and drawing earthworms and finding out what they do for the soil
Day Three: Visiting the OceanaGold waste rock embankment to seed worms onto rehabilitated pasture
Day Four: Studying and drawing the wormery
Day Five: Language and art activities about earthworms
Day Six: Complete activities
Day One: Finding pasture/garden earthworms and making a home (wormery) for them
Before beginning activities that involve handling earthworms, a discussion on the care of living things would be worthwhile. Worm welfare is very important !! Contrary to popular belief, the old wives' tale that if you cut a worm in half you will end up with two worms is not true. Only one part may survive and even then it depends on where the earthworm is cut whether it is able to regenerate the missing part of its body.
Discuss with the students likely places for earthworms to be found. Either go out and dig sods containing earthworms or get the students to bring sods from home. It is important to note that worms found within compost are a different species and are not likely to survive in garden/pasture conditions. The species to be introduced to rehabilitated pasture at the Martha Mine is Allolobophora caliginosa. See the MAF identification guide included with the resources for this unit of work.
Earthworms can be kept in culture in almost any large container, provided that it is non-porous (otherwise it will be difficult to keep the soil sufficiently moist). The size of the container will determine the number of earthworms that can be accommodated. Three to five worms per 500ml capacity will allow the earthworms to carry out their activities, such as cocoon production, normally. Cultures are best kept cool, between 10°C and 15°C. Most garden and pasture species prefer a "light" soil, e.g., friable loam with a moisture content of about 25 – 30%. Suitable food sources are partly rotted straw or tree leaves, or moist horse manure.
Arrange soils with at least two contrasting colours into layers in the wormery. Sawdust can be used as a layer as well, as long as the wood has not been treated with chemicals. Make sure that the top and bottom layers are good, rich soil. Place some small pieces of grass, rotten leaves and/or horse manure on the top layer of soil. Tap the frame on a bench or floor to settle the soil. Add the worms. The open top of the wormery can be covered with sticky tape; make very small holes in the tape to provide aeration. Either draw or photograph the wormery so that changes that occur can be tracked. The wormery should be covered with a dark cloth to exclude light and kept in a cool place.
It is suggested that the wormery is set up at the beginning of this unit so that the worms can be well established in their environment by the time the students come to study their habits and make observations of the wormery later on.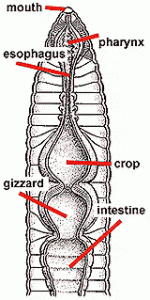 Day Two: Watching and drawing earthworms and finding out what they do for the soil.
Students could spend some time researching for further information about earthworms, using the library, gardening books and/or magazines, and the internet. Several helpful web sites are listed in the bibliography included with this unit.
It is important that the earthworms being used for these observations are not the same earthworms that were previously introduced into the wormery. The wormery inhabitants need to be left alone to establish themselves. Earthworms used for today's activities should be returned to their source at the end of the lesson.
A work sheet master copy is included here as a "taster" for students' observation activities. There are further suggestions for field and classroom observations and experiments in the WGM resource material (pages 11 – 16) accompanying this unit.
Day Three: Visiting the waste rock embankment to seed earthworms onto rehabilitated pasture.
For those schools interested, a field trip for Year 5 and 6 children may be undertaken. Newmont Waihi Gold will arrange transport. Each school will visit the site on a morning. The students will be divided into two groups. One group will collect sods from the supply area and the other group will place sods on the pasture. Then they will swap over half way through. OceanaGold staff will manage the activities at the mine site. It would be appreciated if each school group could provide adult helpers. Children will be required to have covered-in footwear and clothes that can get dirty.
Day Four: Studying and drawing the wormery
The wormery has most likely been established for about a week by now. If the students take off the cover they will be able to observe that changes have occurred.
Draw an accurate diagram of the wormery. Compare this to the diagram drawn or photograph taken on the first day. Make a list of changes that have occurred.
Study the way the earthworms move and make tunnels. Read pages 5,6 and 7 in "Earthworms are Animals". List three things that help the earthworms to move and make tunnels.
It would be interesting to keep the wormery for one more week so the students can observe it again and repeat this activity.
Day Five: Language and art activities about earthworms
There are several suggestions for language, art, research and extension activities in the resource material (pages 17 – 24) accompanying this unit.
Worksheet
Use a hand lens to study your earthworm. Work out which is the mouth end (more pointed) and the tail end (broader and flatter). Draw and label the mouth, tail, rings or segments, saddle. (Older worms may have a saddle. The saddle is always nearer the mouth end.)
Observe an earthworm moving. Try to measure its length accurately by measuring its maximum length 5 times and its minimum length 5 times. Average the results.
Maximum = ..………… + ..………… +..………… + ..………… + ..………… = ..………… divided by 5 = ..…………
Minimum = ..………… + ..………… +..………… + ..………… + ..………… = ..………… divided by 5 = ..…………
Write down a way to describe the earthworm's thickness
……………………………………………………………………………………………………………………………………
Place your earthworm on different surfaces (eg., soil, glass, paper). Look for any changes in the way it moves. Write down what you notice.
……………………………………………………………………………………………………………………………………
Place the earthworm on a piece of unwaxed greaseproof paper and listen closely while it moves. Write down what you notice.
……………………………………………………………………………………………………………………………………
An earthworm has no feet. Name two things that help it to move.
………………………………………………………………………… …………………………………………………………
Bibliography
Earthworms – OGL Resource material prepared by Andrew Jenks
The Earthworm – Text by Helen Depree, Photographs by Julie Connal
Earthworms are Animals – Concept Science, Co-authors Judith Holloway and Clive Harper
Farm Production and Practice, Soils: Earthworms – MAF Information Services info sheet
Earthworms – DSIR Land Resources Ecology Notes, Gregor Yeates
Biology of Earthworms – CA Edwards and JR Lofty, 1972 (Chapman and Hall)
The World of the Soil – EJ Russell, 1959 (Collins/Readers Union)
Earthworms for Gardeners and Fishermen – KA Handreck, 1978 (CSIRO)
A Guide to the Study of Soil Ecology – William Andrews (editor), 1973 (Prentice-Hall)
An Illustrated Guide to Common Soil Animals – H Pauline McColl, 1977 (Government Print)
School Journal Part 3, No 1, 1981 – Worm watching, Jane Thomson